BIGShot™ Targets
Photorealistic, life-sized targets for non-lethal weapon training.

BIGShot targets by Visual Evidence Corporation (VE) are the most realistic targets available for use with non-lethal marking cartridge ammunition. Each BIGShot target is a life-size, free-standing target supported by a steel swivel or non-swivel base, allowing users to display either the "with or without weapon" side of our reversible targets. BIGShot targets are lightweight with a durable laminated surface that can be shot at, wiped off and used over and over, unlike conventional paper targets.
Use BIGShot targets individually or grouped to simulate real-world situations law enforcement officers may encounter. Examples of training applications include: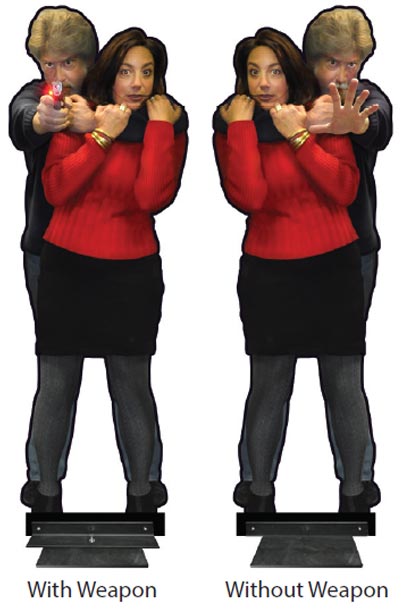 Hostage situations
Hostile citizens with or without weapons
Terrorists
School shooters
Any situation involving individuals who may or may not pose a threat
BIGShot targets are ideal for all non-lethal training applications such as:
Private Sector
Law Enforcement
Military and Government
Security Companies
Though our standard targets are available for most applications, VE will provide customized targets for your specific needs. Call 866-656-5707 and ask for one of our target specialists to place an order or for additional information.